This morning we had breakfast at Ryokan Matsumae, opting for Japanese style. At the communal dining room, all the dish were already waiting... .
When I mentioned last night that I would not want to see tofu for a while anymore... Guess what... boiled tofu in soy milk (cooked over small stove on our tables) FTW. And
1/2heart
and I still devoured it with no problem.
The miso soup was especially yummy - with small clams adding so much flavor.
Bird's eye view of our breakfast:
After breakfast, we decided to walk around Higashimuki Shopping Street - despite the heavy rain and typhoon warning. Other people were also out and about, though undoubtedly it was more quiet than yesterday's sunny weather.
cute manhole - with Nara's mascot
And although we barely burnt the calories from our breakfast, what to do when we saw so many temptations... . There are quite a few shops selling
wagashi
and other sweets, and they were all so pretty and oh I could hear them begging me to buy them.... .
These were what we had:
Warabi Mochi
, daifuku, and incredible pastry like bread with crumbly egg custard inside.
And yuzu mizu
yokan
, served chilled in the cutest container in the shape of a bamboo (not real bamboo):
And of course, when I saw green tea soft serve ice cream... .
**-- **
Lunch was at
Okaru
, also located along the street.
Okaru
13 Higashimuki Minamimachi, Nara
They have english menu, and as always, for your enjoyment... .
Okaru offers cook-at-your-tables okonomiyaki (and yakisoba). Though the waitress was the one who actually cooked at your table, it was still a great experience. It had been a long time since I had okonomiyaki cooked like this, and that was in Osaka 7 years ago 0_0
We ordered Okonomiyaki
House Special no. 2
(JPY 2700) and
Akashi-yaki
(JPY 580). The Okonomiyaki was very filling and probably the most carbs we had in one sitting so far since we arrived in Japan.
Look at how thick this thing is:
At every table, there were some sauces and
katsuo-bushi
, and some seaweed salt to decorate your okonomiyaki with... .
And thus, behold something so beautiful and yummy:
Akashi-yaki was a lighter (but somehow the size was bigger?) version of takoyaki, and eaten by dipping them in the accompanying soup.
**--**
And we continued our walk, this time with definite plan to walk all the way to
Kasuga Taisha Shrine
. Quite a few sights along the way, despite the rain. I actually quite enjoyed it as it did not feel as humid as yesterday.
Sarusawaike Pond - brown and solemn from the rain
Three-story Pagoda
They have basins like this at every shrine in Japan. Patrons need to clean themselves before visiting the main shrine. Check this
site
out for etiquette in visiting Japanese shrines. I couldn't remember all of them and I just knew I broke so many rules today... .
1. take a water scoop on right hand.
2. scoop water and wash left hand.
3. switch scoop on left hand, and wash right hand.
4. switch scoop back on right hand and pour water on left hand, then wash your mouth. (DO NOT Wash your mouth directly from scoop)


They have basins like this at any shrine. Patrons need to wash their hands before prayers.
deers are still aplenty, hence signs are needed to warn people so accidents don't happen...
The rain from yesterday overloaded the Sagiike Pond and water covered some lower pathways.
But this guy just kept on his business and munched on flowers... .
Ukimido Gazebo in the middle of Sagiike Pond
Bridge walkway to Ukimido Gazebo
Tobihino Field
Quite amused to see these various signs... . When driving in Australias countryside, we have to look out for cattles, kangaroos, or stray wombats. In Nara...
The festival lantern that would not light the night tonight...
The path to Kasuga Taisha Shrine is stunning. As it was raining on and off, it was very quiet and actually turned out to be very good photo opportunity. The path is lined with a lot of stone lanterns.
En-route to the shrine, we dropped by the Treasure Hall. See this picture, there was already a resident perching very comfortably on top of one of the sculptures... .
'pay no heed to me. Move along now, humans...'
To access the inner part of the shrine (though the main sanctuary and prayer hall are still off-limits to visitors), we had to get some tickets (JPY 500 per adult)
And I had to get me one of this: not only it's cute, it also held a
omikuji
- a fortune telling paper. Can't understand Japanese? no worries, the shrine sold english fortune paper as well (JPY 500 if held by a brown deer, JPY 600 if held by a white deer. I chose the cheaper one, of course. The brown one is cute enough for me anyway)
I got a 'Great Good Fortune'. Not sure if they only print 'Great Good Fortune' for all of their english
omikuji
s, or if I really do have great good fortune. Well, considering where I am today, I guess I will believe...
This deity has been enshrined since 1135 and only see light of day once of year 0_0
interesting looking....
We saw a fawn that must only been born today. It was still wobbly and struggled to walk, the mom kept licking it to clean it up.
Leaving the shrine, we headed to the Ryokan for our dinner, but not before we had one last snack for the day. It was a yamato-cha green tea pudding that had quite a strong milk taste. Me no like milk. Me no like this pudding :(
**-**
During this trip, I booked as best as I could to have at least one meal at the ryokans we will be staying at. Tonight, we had dinner at Ryokan Matsumae.
Mind: blown.
Tongue: wriggling happy.
Belly: expanding.
Appetizers consisting of seared scallop, cheese, and turban shell.
Yes, another tofu in soy milk that will be boiled on flame
As part of appetizers as well: cocktail of shrimp, lychee, and citrus. Refreshing. There was also plum wine aperitif to wake our tummy up.
And some sake for good reasons... .
Next came some vegetables looking so good they were worth gold. Just kidding - only sprinkled by some gold dust/paper.
This was sashimi (sea bream and tuna) salad, with tangy dressing accompanying the raw fish so well.
And some tempura, served with green tea salt.
What is better than beef? Wagyu beef. This was incredibly soft and melty, hardly resisted my bite at all. The meat was seasoned simply with soy sauce and coarse pepper - the simple seasoning simply let the natural taste of the beef shone through.
The last course was some rice, served with pickles, miso soup, and fish doused in sweet vinegar. By this point, I couldn't finish the rice anymore.
But of course, always had room for dessert: simple taro ice cream.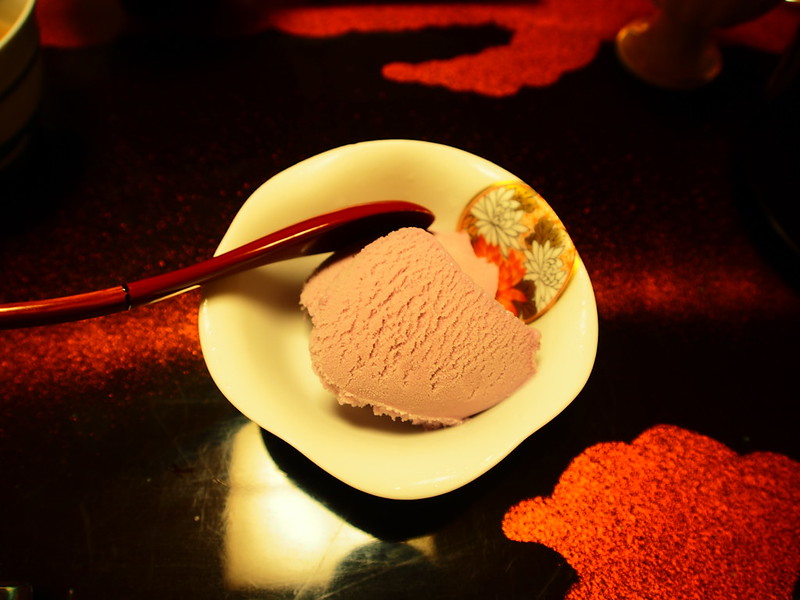 It's a great dinner for us, as we didn't know what we would be getting. Ryokan Matsumae does not have a set menu for their meal and probably optimize any seasonal ingredients available during the season. Nevertheless (and thanks to the fact that we are not fussy eater), we were pleasantly spoiled in terms of taste, presentation, and quality.